TULA - CITY - HERO
On October 15, Iskra wrote that the demonstration in Tula was quite successful, and its main goal - to draw the attention of the population to revolutionary social-democratic tasks - was achieved. In honor of the first political demonstration in Tula, a granite obelisk was erected on the Uprising Square.
The hatred of the Tula proletariat against tsarism increased even more when the government, in order to distract the masses from the struggle, plunged the country into a war with Japan. But the gunsmiths and chambers understood that ordinary Russians were dying on the front, and therefore, carrying out military orders, significantly increased the production of weapons and ammunition. 133 thousand rifles, 62 thousand revolvers, 125 million cartridges gave Tula to the treasury in 1904-1905. The production of the Maxim machine gun was organized.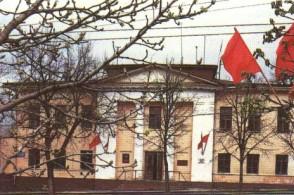 He called in the people respect and admiration for the heroism of Russian soldiers and sailors. On the night of April 14, 1904, a thousand crowd of Tula people met the heroic crews of the cruiser Varyag and the gunboat Koreets returning to their homeland. From the city of Tula, a fellow countryman, Varyag commander Vsevolod Fedorovich Rudnev, was presented with memorable gifts, including a miniature model of a quick-firing cannon that was standing on a cruiser (now at the Central Naval Museum in Leningrad). Sailors received traditional Tula gifts - gingerbread and 25 harmonies.
The feat "Varyag" is unforgettable. Today in Tula, at the entrance to the Komsomol Park, stands a stern and majestic monument to VF Rudnev. In the village of Rusyatino of the Zaoksky district in the year of the 80th anniversary of the "Varyag" feat, a museum dedicated to him has been opened. At a nearby grave, where the ashes of the legendary commander lie, before leaving for the modern Varyag rocket cruiser, young Tula residents lay flowers.
From the very beginning of 1905, turbulent revolutionary events were taking place in Tula: strikes, clashes with the authorities at enterprises. This was facilitated by the large work of the RSDWP Committee on explaining the nature of the war, the shooting of a peaceful demonstration on Bloody Sunday, the news of the Ivanovo-Voznesensk strike, during which the first Soviet of Workers' Deputies was born, about the uprising on the battleship Potemkin. In summer, up to 10,000 workers took part in strikes in the cartridge and other factories. The soldiers of the 11th Infantry Regiment were agitated. The Tul'aiks were also preparing for an armed struggle against the autocracy. Bolsheviks S. S. Kolesnikov and N. M. Teploe created an illegal workshop for the production of weapons. As Lenin wrote to VD Bonch-Bruevich, who visited Tula, "there are a lot of weapons prepared here, and we can continue to receive them."